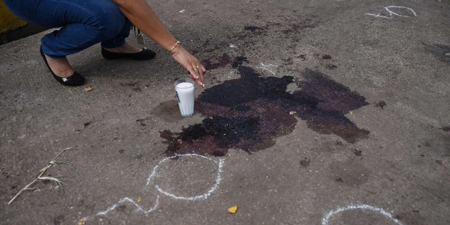 JournalismPakistan.com August 25, 2017


COATZACOALCOS, Mexico - Mexican prosecutors are investigating threats a politician allegedly made against slain investigative journalist Candido Rios, an official said Thursday, as fellow reporters protested a wave of violence against the press.
Rios, who was under government protection, was gunned down Tuesday in the violent state of Veracruz, joining a macabre list of more than 100 journalists murdered since 2000 in Mexico, one of the world's deadliest countries for the media.
State authorities drew criticism for initially ruling out his journalism as a possible motive.
But prosecutors are now analyzing a video that allegedly shows a powerful local politician threatening the reporter, according to the head of the state's Commission to Protect Journalists, Jorge Morales.
Prosecutors "are looking at (the video) as a prominent element," Morales told AFP.
The video, posted on social media, purportedly shows former mayor Gaspar Gomez of the town of Hueyapan de Ocampo threatening to "bash (Rios's) head in."
Rios's family and editor say he had previously been the target of attacks and death threats from Gomez, whom the journalist had repeatedly accused of corruption in the pages of his newspaper, Diario de Acayucan.
"Once (Gomez) and his police officers beat him up right in front of me," Rios's widow, Hilda Nieves, told AFP.
Rios was enrolled in the so-called Mechanism to Protect Human Rights Defenders and Journalists, a government program launched in 2012 to stop assassinations of activists and reporters.
It has been widely criticized for failing to stem the violence.
Some 50 journalists protested Thursday in Mexico City, demanding the authorities overhaul the program and increase its budget, which has been cut from $2.1 million in 2013 to half that this year.
"We're very concerned that a person who was protected under the mechanism was murdered," protest organizer Alejandro Melendez, a photojournalist, told AFP.
Rios, 55, was the second journalist under government protection to be murdered, according to media watchdog Article 19.
More than 90 percent of journalists' murders in Mexico remain unpunished.
Rios was the 10th reporter killed this year. Most had been reporting on powerful crime gangs and government corruption.
Violence has surged across Mexico since the government declared war on the country's powerful drug cartels in 2006. More than 380,000 people have been murdered and more than 30,000 have gone missing since then. - AFP