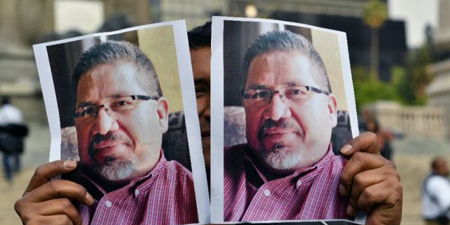 JournalismPakistan.com January 14, 2018


MEXICO CITY - A journalist was killed on Saturday in the northern Mexican state of Tamaulipas, adding to a wave of violence in one of the world's most dangerous countries for media workers.
Carlos Dominguez was murdered Saturday afternoon in the city of Nuevo Laredo, state officials said in a statement. The attorney general's office has launched an investigation to determine the circumstances of the killing, including whether it was related to Dominguez's work as a journalist, the state said.
Dominguez was an independent journalist who wrote a political column. In one of his last publications, he lamented the growing political violence that has struck Mexico ahead of the presidential election in July.
Francisco García Cabeza de Vaca, the governor of Tamaulipas, denounced the killing in a post on Twitter.
"My condolences to the family of the journalist Carlos Dominguez Rodriguez," he wrote. "My commitment to them and the journalistic community of Tamaulipas is that this murder will not go unpunished."
At least 67 media workers were killed worldwide in connection with their work in 2017, according to the advocacy group Reporters Without Borders, which singled out Mexico as the most dangerous country for journalists in the Western Hemisphere. - Reuters