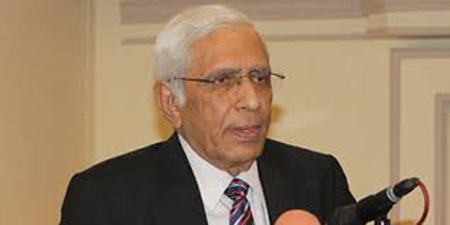 JournalismPakistan.com August 11, 2017


ISLAMABAD – The advice from Muhammad Ziauddin, one of Pakistan's most senior and respected journalists, to journalism rookies is to "never ever compromise your integrity and credibility."
In an interview published in Daily Times Friday, he said one does not win it overnight but needs to work on it on a daily basis for at least half a decade.
Ziauddin, who has had stints at The Muslim, The News, Dawn, and The Express Tribune, pointed out that it was never easy to maintain one's integrity and credibility in this profession.
"The temptations are many and very attractive. You are like a traffic policeman with powers to stop the mightiest in his/her tracks if found violating traffic rules. So, you need to work on it diligently and responsibly."
He said that three things kept him in journalism – reporting on a daily basis on economic issues especially government policies and plans that impinged on the downtrodden; hoping someday to set the world on fire with his reports and; the media house Dawn which gave him all the freedom that he needed to do his job within its culture of heightened sense of responsibility.
Ziauddin spent more than three-fourths of his career at Dawn that he said looked after him extremely well. "In a way pampered me.
"I had spent most of my career in Dawn because it was not only highly satisfying to work for the newspaper but also exciting, as the editor was a tough taskmaster. It was fun working under pressure cooker conditions."
He said that during his career he worked with all the giants of his time but missed working for the giant of them all – Mazhar Ali Khan. "I learned a lot from Ahmed Ali Khan, A T Chaudhary and Ibnul Hasan."
Ziauddin, an APNS award winner said he found reporting the annual budget the toughest "because you get only about five hours to understand and report it in a language easily understood by the ordinary readers. Budgets, as one knows, are usually complex documents with actual facts and figures camouflaged within the data in such a way as to make the budget appear pro-poor while in fact it is designed to be pro-rich."
He named Abdul Sattar Edhi, Dr. Abdus Salam, IA Rehman, Asma Jahangir, Zulfiqar Ali Bhutto, Benazir Bhutto, Malala Yousafzai, Sharmeen Obaid-Chinoy, Pervez Hoodbhoy, AH Nayyar, Dr. Adeeb Rizvi, Aitezaz Ahsan, and Imran Khan as a sportsman and social worker, as some of those on his list of national heroes.