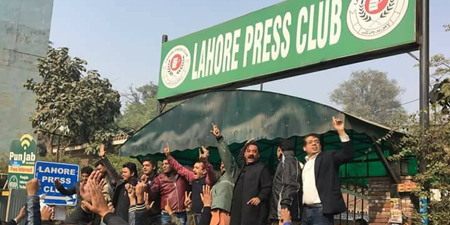 JournalismPakistan.com December 28, 2017


LAHORE – The annual elections of Lahore Press Club scheduled for Thursday had to be postponed until December 31 following a row over a controversial new voter list.
The incumbent Progressive Panel put up a list of 547 new members a couple of weeks ago promoting a protest by the rival panels.
The protesters staged a sit-in preventing the start of polling. They alleged the list was put together by the Progressive Panel only to increase its vote bank and in violation of the relevant clause of the club's constitution.
Those in the know tell JournalismPakistan.com the list includes non-journalists and others who do not have the required experience to become club members.
The rival panels demanded to freeze the new list and said the election be organized according to the old voter list. They suggested the new elected body should scrutinize the controversial list after the elections.
After no solution could be found, the election committee announced the postponement at 11:30 am.