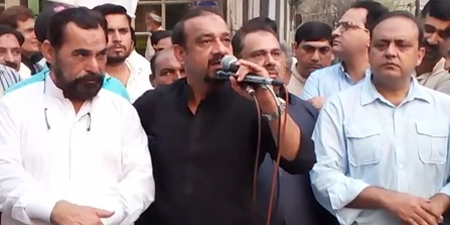 JournalismPakistan.com October 26, 2018


LAHORE – Angered by a series of sackings of their colleagues, journalists Friday demonstrated outside the Nawa-i-Waqt Building and threatened another protest right in front of the media group boss Rameeza Majid Nizami's office.
A Joint Action Committee organized the protest. It began from the Charing Cross before the protestors arrived at the building that also houses Waqt News Television and English daily The Nation.
Shahzad Butt, President Punjab Union of Journalists (PUJ) said he had suggested holding Friday's protest in front of Rameeza's office, but his colleagues decided to do so later.
The union leader made it clear that following their next protest at Dunya News offices on Monday, the Joint Action Committee would demonstrate outside Rameeza's office.
Butt also took a swipe at Punjab Information Minister Fayyaz ul Hassan Chuhan for not honoring his promise of having a financial audit of news organizations conducted. He called on the government to pay attention to their problems.
He said that some media owners wanted to see journalists in confrontation with the law enforcing agencies so that they could achieve their vested interests.