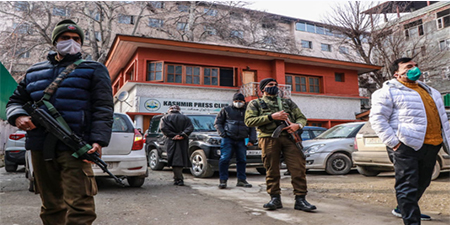 JournalismPakistan.com January 20, 2022


SRINAGAR - The regional administration declared that the Kashmir Press Club has been deregistered as a society and "ceased to exist". The land on which it stands was being taken back into government hands.
"It seems the ultimate goal was to shut down the Kashmir Press Club," its general secretary, Ishfaq Tantray, said, emphasizing that "By this action, they [government] wanted to stifle the voice of journalists that resonated through the forum … the only democratic and independent journalist body in the region."
The government defended its actions as protecting press freedom and ensuring the "safety of bona-fide journalists".
A small group of journalists supportive of the Indian government had stormed the Kashmir Press Club with the assistance of armed police over the weekend, allegedly threatening its ruling body, and locked up the building, preventing journalists from entering.