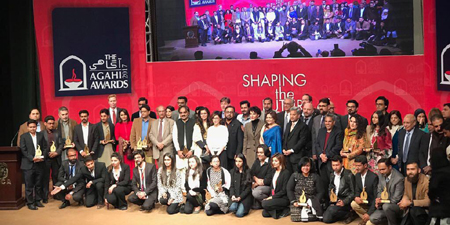 JournalismPakistan.com December 09, 2017


ISLAMABAD – Kashif Abbasi of ARY News was adjudged the Most Credible Anchor of the Year at the 2017 AGAHI Journalism Awards held at the Pakistan National Council of Arts Saturday.
The best of the media industry striving for ethical journalism from all across Pakistan were recognized as Journalists of the Year in their respective categories.
Leading opinion makers, senior journalists, policy-makers, diplomats, ambassadors, academicians, professionals from the media industry and representatives from think tanks attended the award ceremony.
This year AGAHI Awards received more than 3000 nominations from all over the country in 40 different categories from print, television, radio and online media.
Puruesh Chaudhary, President AGAHI and the co-founder of the AGAHI Awards while giving the welcome note said: "This year AGAHI Awards celebrates responsibilities; in 2017 as the nation marks its 70th year of independence – we should recognize the tremendous effort of the journalist community in the creation of this country, this is the strength of free media."
Amir Jahangir, CEO Mishal Pakistan and co-founder, AGAHI Awards, in his welcome address said: "Pakistan has completed its 15th year of electronic media deregulation in the country. AGAHI Awards provides that pivot for media to reflect on the professionalism and credible journalism which creates value towards the public."
He further said, "We are happy that AGAHI Awards has created that platform for the journalists to be that voice of accountability in Pakistan and beyond."
Inaugurated on March 28th, 2012, the AGAHI Awards are Pakistan's first ever journalism awards recognizing the best journalists in more than 40 journalism beats.
The AGAHI Awards 2017 recognized the following "Journalists of the Year" in the following categories:
Kashif Abbasi, ARY News (Most Credible Anchor of the Year)
Shazaib Khanzada, Geo News (Peoples' Choice Awards: Favorite Current Affairs Anchor – Male)
Ayesha Baksh, Geo News (Peoples' Choice Awards: Favorite Current Affairs Anchor – Female)
ARY News (Peoples' Choice Awards: Favorite News Channel of the Year)
Zara Hut Kay, Dawn Media Group (Jury's Choice for the Current Affairs Program of the Year)
Mazhar Nisar Sheikh PTV World/PBC (Newscaster of the Year)
Hassan Raza, Dunya News Network (Investigative Journalist of the Year)
Islam Gul Afridi, Akhbar-e-Khyber (Agriculture)
Yousaf Ajab Baloch, Balochistan Point (Anti-Corruption)
Adil Pervez, Geo News (Business & Finance)
Shabina Faraz, Express (Climate Change)
Murtaza Zaib, VOA Urdu (Competitiveness)
Rehan Muhammad, Tribal Post (Conflict)
Adil Pervez, Geo News (Corporate Social Responsibility)
Raja Kamran, Dawn Media Group (CPEC)
Naimat Khan, Friday Times (Creating Shared Value)
Sana Jamal, Gulf News (Culture & Tourism)
Usman Hanif, Pakistan Today (Economy)
Abdul Salam Afridi, News Lens (Education)
Shazia Hassan, Dawn Media Group (Energy)
Fouzia Zeb, 92 News (Entrepreneurship)
Naimat Khan, AF-KAR Affairs (Extremism and Terrorism)
Saadat Hassan, Regional Rapport (Foreign Policy)
Saadat Hassan, IRAS (Foresight and Futures)
Rizwana Naqvi, Dawn.com (Governance)
Zareef Balouch, Haal Ahwal (Health)
Syed Babar Ali, The Express Tribune (Human Rights)
Sana Jamal, Gulf News (Information Communication Technology)
Zahid Gill, Geo TV (Infotainment)
Mahrukh Sarwar, MIT Technology Review (Innovative Journalism)
Syed Babar Ali, Express (Media Ethics)
Syed Miqdad Mehdi, The Nation (Nutrition)
Hasham Cheema, Dawn Media Group (Open Government)
Zoral Khurram, The Express Tribune (Photojournalism - Print)
Narendar Kumar, The Express Tribune (Video Journalism - Television)
Sana Ejaz, News Lens (Sexual & Reproductive Health Rights - SRHR)
Arsalan Sheikh, Dawn Media Group (Sports)
Syed Muhammad Abu Bakar, The News(Sustainable Development Goals – SDGs)
Naeem Sahoutara, KBR, Jakarta (South Asia Bridge Initiative – SABI)
Abdul Salam Afridi, News Lens (Vocational Training & Technical Education)
Samiullah Randhawa, Pakistan Today (Water Stewardship)