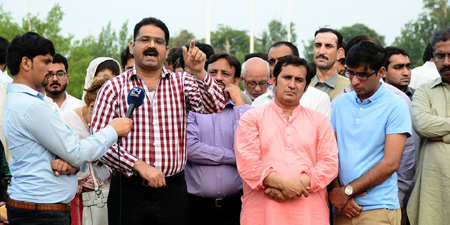 JournalismPakistan.com July 22, 2017 Myra Imran



ISLAMABAD - Journalist unions Saturday threatened to protest in front of Punjab House where Interior Minister Chaudhry Nisar is due to hold a press conference Sunday if an FIR was not registered against FIA officials who harassed and manhandled a female journalist and thrashed her colleagues.
The protest was organized by journalist unions and National Press Club. Senior journalists and union leaders condemned the action of FIA officials. They demanded registration of FIR against them. They said police had not done so on the directives of the interior minister.
Saba Bajeer, a reporter with Channel 24, was manhandled, threatened, and harassed by FIA officials and family members of SECP Chairman Zafar Hijazi at the Pakistan Institute of Medical Sciences (PIMS).
She was on an assignment to report on Hijazi, brought to the hospital after being arrested earlier in the day by FIA for tampering with records of Prime Minister Nawaz Sharif's companies.
Her colleagues who arrived to rescue her were beaten up.
Fawad Chaudhry of Pakistan Tehreek-e-Insaf and Mustafa Nawaz Khokhar of Pakistan People's Party also attended the protest. They assured support to media freedom and said the incident reflected the government was in panic mode.
Aoun Sahi, Bureau Chief of Channel 24 said that Saba belongs to interior Sindh and it was very brave of her to practice journalism in a metropolis far away from her native town.
"Since this incident, her family is pressuring her to return home. Instead of encouraging and protecting such women, the government is making them insecure," he said.
Saba did not attend the protest because of psychological trauma. But journalist Irfan Malik, among those beaten up was present. He could not stand due to injuries sustained Friday.
Senior journalist Farooq Faisal Khan said the entire city was shut down to protect Maryam Nawaz, daughter of Prime Minister Nawaz Sharif, when she was called up by the Joint Investigation Team. "Saba is also a daughter of someone but the same law enforcement agencies threatened and manhandled her," he said.
Dawn reporter Kalbe Ali also addressed the gathering. He said he had received threatening calls for publishing news about SECP.
Image courtesy: Aamir Sajjad Syed