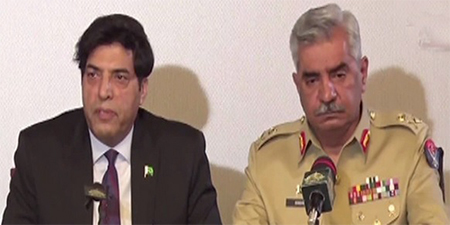 JournalismPakistan.com October 27, 2022


ISLAMABAD—The unprecedented presser by two senior officers of the Pakistan Army on Thursday left journalists bitterly divided.
For the first time in Pakistan's history, Director General of ISI Lt. Gen. Nadeem Ahmed Anjum and Inter-Services Public Relations (ISPR) DG Lt. Gen. Babar Iftikhar held a press talk on the murder of journalist Arshad Sharif and the alleged confrontational narrative of former Prime Minister Imran Khan regarding the military.
Cyril Almeida, formerly of Dawn newspaper, came up with short and cryptic tweets. In one of the tweets, he said the former prime minister had won. In another, he simply said: "Liar, liar, pants on fire…"
In yet another tweet, he added: "IK is no democrat, Shahbaz craven, Nawaz ditched his politics, Zardari always on the look out for a deal - and yet the boys managed to screw this up epically..."
On the other hand, Muneeb Farooq of Geo News went along with the words of the army generals. In several tweets, he said the two officers destroyed the narrative of Imran Khan. "Pakistan Army Finally Says "Enough Is Enough." No more nonsense will be tolerated. Completely destroys PTI's & Imran Khan's narrative on Cipher & Arshad Sharif Sb's Tragic Death."
Anchor Moeed Pirzada was not impressed by the press conference. "With Apologies to DG ISPR, DGI & Gen. Bajwa, this press conference was as intelligent & credible as that of Faisal Vawda! Creating doubts about ARY, Salman Iqbal & Imran Khan about Arshad Sharif's gruesome murder is like blaming Bhutto for surrender in Dacca! Forgot to blame RAW?"
Senior journalist and analyst Mazhar Abbas feared tough days ahead for the former prime minister. "Tough days ahead for former PM Imran Khan after the unusual and unprecedented Presser of #DGISPR and DG ISI for the first time. How IK will response to sharp in-swinging yorker as things are getting serious in both Arshad Sharif case as well as IK's offer to the chief."
Journalist Imran Riaz Khan wondered why a presser by the senior military generals was against a political leader and party. He added this perhaps has happened for the first time in Pakistan's history.
Hamid Mir of Geo News thought that the DG ISI and DG ISPR took no names but also made no secret that they were talking about the former prime minister.
Anchor Asma Chaudhry, however, maintained that Imran Khan is winning the battle of nerves.
Veteran journalist Mariana Babar found DG ISI "very impressive." But on the other hand, Kamran Yousaf likened DG ISI's speaking style to that of the late actor Mohammad Ali.
Marvi Sirmed felt that the former prime minister had put the military leadership under pressure like no one else in Pakistan's history and feared he might be arrested. "The fact that DG ISI had to join @OfficialDGISPR in a houseful of a presser to defend their institution proves how effective Imran Khan's pressure tactics have been. No other politician would ever creep under generals' skin like this. Next we might hear he has been arrested."
Photo credit: Dawn