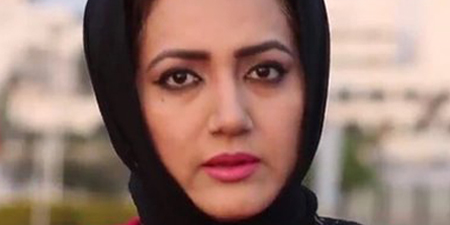 JournalismPakistan.com February 05, 2019


ISLAMABAD - Journalists have backed Aaj TV presenter Asma Sherazi after she exchanged harsh words with Dr. Shahbaz Gill, a spokesperson for the Punjab chief minister, during a talk show hosted by Nasim Zehra on Channel 24.
After the talk show, Asma tweeted: "Quite disappointing that CM Punjab Spokesman @Shabazgil instead of arguing with logic and performance attached me professionally during @NasimZehra program on @24NewsHD and then launched a barrage of abuses on social media trough planted trolls. This is how they are dealing media."
Asma got angry after Shahbaz maintained on the show that she supports Pakistan Muslim League-Nawaz.
During the exchange, Asma continued to get angrier and at one point alleged that Shahbaz got the post of spokesperson because of his "flattery skills." At this juncture, Zehra took a break.
In his reply, Dr. Shahbaz said: "I respectfully disagree @asmashirazi Sahiba. I always respect u & will never pass any bad comment or encourage anyone for such thing. Although you passed Personalcomments on me like (chaplusi day job, sharam, taat ki soch) But it's ok. must be out of anger. No hard feelings."
Daily Times Editor Raza Rumi termed Asma a fearless journalist. "Her fault is that she is a democrat & does not pander to forces of authoritarianism. Journalists have to question and uphold constitutional rights for there can be no #freepress w/t that. Stop harassing her."
Fahd Husain, Executive Editor of The Express Tribune also backed Asma. "Absolutely ridiculous. You responded like you should have Asma."
The News journalist Umar Cheema said Asma is a person of impeccable integrity and added that "those attacking her are only exposing their mindset. Fighting fascists back is the only way forward."
Presenter Wajih Sani tweeted: "Shame on those trolling journalists. More power to Asma Sherazi.. she is one brave journalist."
Senior journalist Nusrat Javeed also defended Asma. "He deserved it. Period. Wish you best of luck and strength."
Dawn Columnist Zahid Hussain also termed Asma's reply "appropriate."
Zehra maintained that "attacking a journalist's credibility with no real evidence is unacceptable."
Photo: Twitter (@asmashirazi)