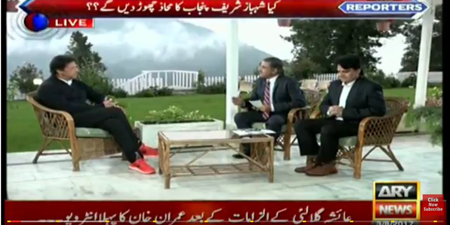 JournalismPakistan.com August 03, 2017


ISLAMABAD – Imran Khan, Chairman of Pakistan Tehreek-i-Insaaf said Thursday that "Media Godfather" (Mir Shakil-ur-Rahman) had a hand in the attack launched by PTI MNA Ayesha Gulalai against him.
"The Media Godfather is behind it because the way Geo-Jang Group played this up," Imran said in an interview with ARY News in Nathiagali.
Mir Shakil is the owner of Jang Media Group.
In June Imran first dubbed Mir Shakil as the "Godfather of media".
Ayesha quit the party Tuesday alleging harassment by Imran. She made the allegations at a press conference. The PTI Wednesday served a legal notice on her to prove her allegations, or apologize.
Imran saw it as a coordinated attack. "I suspect that N League used Ayesha Gulalai against me. This is not the first time they have done such a thing. It is their old style," he told interviewers, Sami Abraham and Sabir Shakir.
"They know one thing – to buy people. I think in this instance too, money was involved. I am surprised how she stooped to this level," Imran said.
He also pointed out that the ruling PML-N leader Amir Muqam also played a role in the attack on him.
Imran said he expected more such attacks in future. But he made it clear that whatever conspiracy the "Media Godfather" and the PML-N hatch against him in the days ahead, he was ready to face it. "I will defeat them," he said.