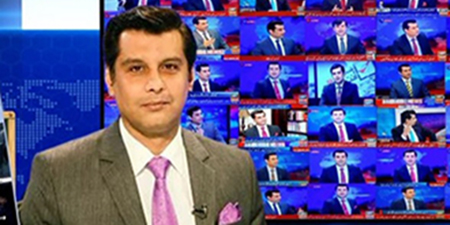 JournalismPakistan.com April 28, 2022


ISLAMABAD—Islamabad High Court has asked the law enforcement agencies to stop harassing prominent ARY News presenter Arshad Sharif.
In a tweet, anchor Moeed Pirzada, said: "Plain clothes men - believed to be from FIA - barged into TV Anchor, Arshad Sharif's house & harassed his family, around 1.30am this morning."
He further stated that "According to sources close to him, a FIR was already ready to press after his illegal arrest. Fascism against Media with full might!"
A petition, in this regard, filed in the Islamabad High Court against the harassment of the TV anchor was taken up by the Islamabad High Court Chief Justice Athar Minallah.
The written order issued by the chief justice said that FIA should not harass Sharif or any journalist, ARY News reported.
According to Sharif's lawyer, Faisal Chaudhry, the chief justice also summoned police representatives and those from the FIA on Friday to explain their position.
However, the FIA denied harassing Sharif and termed it 'fake news'. According to the FIA, "... propaganda against the FIA and its officials is deplorable."
"The media & people are requested to desist from such propaganda. The FIA reserves the right to sue such people involved in such propaganda. In addition, legal action can be taken against such people who initiate & spread such propaganda," the spokesperson of FIA stated.
Sharif's talk show Power Play, which airs Monday to Thursday, has been critical of new Prime Minister Shehbaz Sharif. The TV anchor, a known supporter of ousted PM Imran Khan, accompanied the former premier on his visit to Russia.
Photo: Twitter (@arsched)
You may also like to read:
Islamabad Police register FIR against Arshad Sharif
IB seeks registration of FIR against Arshad Sharif