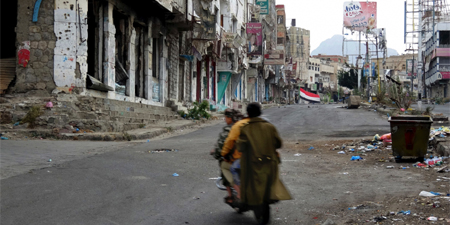 JournalismPakistan.com September 17, 2018


BRUSSELS - Saudi-led coalition airstrike targeted a radio station in Yemeni western province of Hudaydah killing at least four people on Sunday 16 September, according to local media and the Yemeni Journalists Syndicate (YJS).
The International Federation of Journalists (IFJ) joins its Yemeni affiliate in condemning this brutal attack and demanding the coalition to stop targeting media organizations.
Three staff members of the radio and a farmer were killed in the bombing of the station's premises by warplanes from the Saudi-led military coalition, which also destroyed the transmission tower and a warehouse, media reports said.
It is one of the several local radio stations that are located in most of the Yemeni cities across the country and which form Yemen's public radio service. The Hudaydah station is currently under Houthi control.
Correspondents said that the targeted bombing was part of the offensive of the Sunni coalition to take control of the port city of Hudaydah, following the collapse of the UN-led efforts to reach a peace agreement between Houthi militias and the internationally-recognized government, which is supported by Saudi Arabia and its allies.
The YJS said: "The YJS condemned the bombing to the transmission station of Hudaydah Radio by the Saudi-led coalition on Sunday. Omar Azzi, engineer/technician, two security guards, Jamai Musayab and Obeid Jamai, and a farmer were killed in the bombing. The YJS condemns the targeting of media organizations by the coalition and holds it responsible for this crime".
The IFJ General Secretary, Anthony Belanger backed the YJS position and added: "The IFJ condemns the targeting of media installations and the Saudi led coalition must investigate this attack and hold those responsible accountable. Failing to do that makes the collation forces and the Western governments that provide them with military support implicit in violations of the international law". – IFJ media release/File Photo: AP