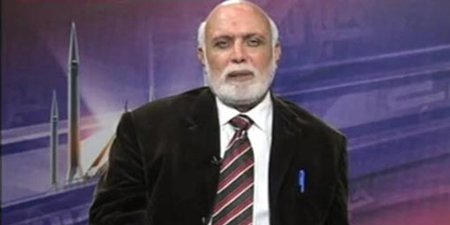 JournalismPakistan.com October 28, 2018


ISLAMABAD - Without referring to an alleged audio recording in which he threatens a police officer, columnist Haroon ur Rasheed on Sunday complained about unruly behavior on the social media and held political parties responsible for creating a set of followers who are uncouth and not ready to listen to reason.
In his column on Sunday in Daily Dunya, he maintained that a political party, a website and a group of jealous journalists had started a campaign of character assassination.
Rasheed did not name any of them. His column is a collection of incidents of online vilification of various personalities, including Prime Minister Imran Khan's sister.
He regretted the fact that people record private talks and make these public online. Commenting on the video in which Hasan Nisar allegedly uses abusive language about a female anchor, Rasheed maintains what he (Hasan) did was wrong but quickly asks if it is a serious crime.
The column tries to justify that using abusive language is a way of life in Pakistan, saying in every locality of the subcontinent, there is a character who uses abusive language constantly.
He also points out the case of Rauf Klasra and regrets that he faces unruly behavior from the followers of a political party.
Rasheed also appears as an analyst on Dunya News Television.
Photo courtesy: Daily Pakistan