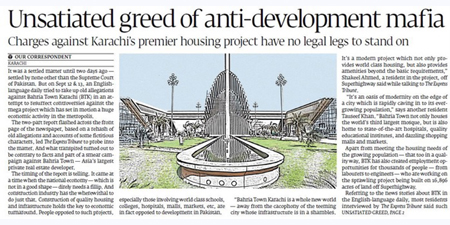 JournalismPakistan.com September 15, 2019


ISLAMABAD — Siding with the property tycoon Malik Riaz, The Express Tribune has rapped Dawn for investigative stories against the projects of Bahria Town in Sindh.
In a front-page story on Saturday — Unsatiated greed of anti-development mafia —– by a correspondent, the paper said an English daily tried "to rake up old allegations against Bahria Town Karachi (BTK) in an attempt to resurrect controversies against the mega project which has set in motion a huge economic activity in the metropolis".
On 12 and 13 September, Dawn ran two stories — Bahria Town & others: greed unbound and The land mafia's rackets: a disaster foretold. Both the stories alleged that the property tycoons are using illegal means and in connivance with the public officials are depriving poor people of their land and violating rules with impunity.
Commenting on the story of The Express Tribune, Dawn correspondent Khaleeq Kiani tweeted: "Great going. Setting new standards of journalism for money."
Journalist Wasim Abbasi in this tweet questioned the journalistic standards of The Express Tribune. "Ohh God so @ExpressTribune conducted its own Investigation to prove that Bahria Town is great and Malik Riaz is a Saint.. The investigative journalist of ET did not have courage to put his byline for this "great investigative story"... Shameful journalism ET this is so low.."
This is not the first time The Express Tribune has questioned a story in Dawn. In 2010 when Dawn ran several stories regarding the legality of a famous food outlet in F-9 Park in Islamabad, the paper hit back.
At that time, the Express Media Group said: "Daily Dawn has been running biased and misleading stories about the affairs of the McDonald's chain in Pakistan for the past year in the guise of 'public-interest journalism."
At that time the paper said Express Group and McDonald's are sister companies. "25 articles have appeared in a space of one year. Each story is riddled with gross inaccuracies, fabricated information, twisted facts and original fiction. This 'reporting' can only be described as malicious and malafide."