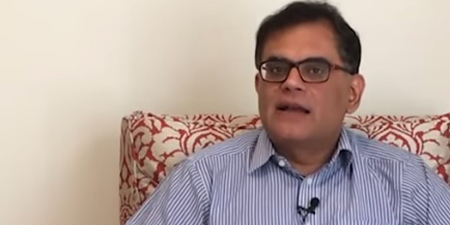 JournalismPakistan.com March 06, 2019


ISLAMABAD – Raza Rumi on Wednesday announced the end of his editorship at Daily Times.
Terming his two years at the paper a challenging and rewarding experience, he said he was professionally satisfied he contributed to the paper's revival.
He said this on Twitter while also thanking his colleagues who "bridged the distance and stayed the course."
Rumi managed the paper mainly from the US where he immigrated after extremists targeted him in Lahore in 2014.
He also appreciated Daily Times CEO Shehryar Taseer for not interfering.
Rumi joined Daily Times in March 2017 at a time when the paper had lost much of its editorial gloss.
At the time of his joining the paper, he told JournalismPakistan.com that his priority would be to improve the editorial pages and digitize Daily Times as a paper of the 21st century.
He did add muscle to the op-ed pages and brought about changes to the layout. However, the newspaper's financial problems appeared to impede his progress.
More than a year after being at the helm, Rumi confessed in an op-ed piece he had to withhold many articles and statements in a season of self-censorship.
"Many articles critical of judicial verdicts and statements from top-judges have been pruned and sometimes withheld for an indefinite review," he wrote in his article titled 'A season of self-censorship – confessions of an Editor-at-large,'
Earlier on, Rumi worked for The Friday Times for several years and had stints with Capital TV and Express-News TV as an anchor. He was a regular columnist for The Express Tribune and The News on Sunday.
During his time in the US, he has taught journalism at Ithaca College and public policy at Cornell University. His writings appear in leading South Asian and American publications. He is an author of three books.
Last September he was named the director of the Park Center for Independent Media (PCIM) at Ithaca College.