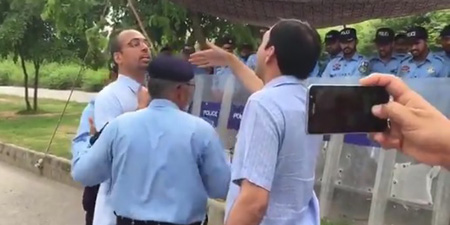 JournalismPakistan.com August 27, 2018


ISLAMABAD - Journalists on Monday took to Twitter to take sides in a controversy that involved DawnNews TV reporter Inamullah Khattak hitting what many believe was a supporter of Pakistan Muslim League-Nawaz (PML-N) outside the NAB court.
Asad Malik, a correspondent for Dawn newspaper in Islamabad posted a video clip of the incident on social media.
Commenting on the clip, Malik's tweet in Urdu said: "A TV reporter's torture on PML-N worker. The worker was raising slogans against NAB and the establishment."
However, Inam told JournalismPakistan.com on Monday that the man identified as Mujtaba had no affiliation with the PML-N but is a US national of Pakistani origin.
According to Inam, he was shouting slogans against the military and NAB. "I told him to bugger off and he hit back saying 'shut up' and then swore at me. That is why I got upset and hit him."
In the video, Khattak is seen hitting the man in the back.
Police briefly arrested Mujtaba but was released after a patch-up with the journalist. Khattak tweeted: "He accepted his fault and I accepted mine. His family pleaded his release from police custody. He is free now."
Khawar Ghumman, bureau chief of Dunya News in Islamabad, asked Asad Malik to provide a complete picture. His tweet in Urdu said: "First mention that he is your colleague and second he only hit the man after he used abusive language." Ghumman previously worked for Dawn.
Abbas Nasir, the former editor of Dawn, was disgusted by Khattak's behavior. "Shameful for a journalist to assault anyone, let alone a political activist. Our (media's) shame gets deeper and deeper."
Khattak answered back to Nasir in a tweet: "And you announced your verdict believing the statement of a single journalist. You should have asked other journalists present there before reaching a conclusion."
However, Muhammad Imran, a reporter for DawnNews Television, uploaded a video in which he is interviewing reporters about what actually happened. They said that the man was raising slogans against NAB. He also taunted a NAB official when he reached the court. One of the reporters said that the PML-N workers alleged that Khattak works for the "establishment". However, the reporter added that Khattak later regretted his action of hitting the individual.
Not to be left behind, Taha Siddique, who has fled Pakistan, alleged that Khattak ran a campaign against him. "This is the same guy who ran a campaign against me when I named the army as a suspect behind my failed abduction and said that the taxi driver who corroborated my story of kidnapping was my childhood friend. He is no journalist. And today he stands exposed."
Khattak was quick to respond. "No. I asked you whether you are doing this for asylum. And later you got asylum. I stand correct. You stand exposed."
In another Urdu tweet, Inam alleged that when an American citizen uses abusive language against him and against Pakistan, he would not remain silent.