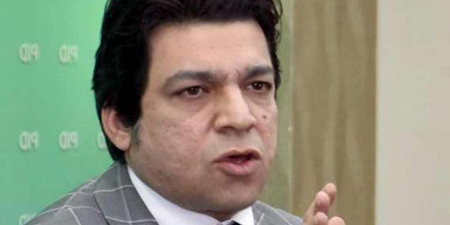 JournalismPakistan.com January 16, 2020


ISLAMABAD—Dawn seemed visibly angry with the Minister for Water Resources Faisal Vawda, telling him to keep his mouth shut for the good of the country.
In an editorial on Thursday, Boot theatrics, the paper maintained if the minister, known for such stunts, keeps his mouth shut, it will be a good omen for Pakistan. "Perhaps it is time Mr. Vawda zipped up his embarrassing rhetoric, laced up his misplaced exuberance and tied up his oversized ego. The country would be all the better for it."
In the editorial seething with anger, the paper said: "Just when political observers thought that PTI maverick Faisal Vawda could not pull another rabbit out of his hat, he pulled out a boot instead. Then he placed it on the table, live on TV."
On Tuesday, Vawda appeared on ARY News in Kashif Abbasi's program Off the Record alongside PPP leader Qamar Zaman Kaira and PML-N Senator Javed Abbasi. He used a military boot to heap scorn on the PPP and PML-N for voting in favor of the recently passed Army Act in the parliament. As the minister faced criticism from all politicians, journalists and others, he later appeared on Geo TV to say that it was entirely his act and that Prime Minister Imran Khan was not happy with him.
The editorial recalled the past stunts of the minister. "When he is not driving fast cars or riding big bikes, he is threatening to hang a few thousand people or promising more jobs than Pakistanis can handle. He also likes to stuff a weapon in his belt, don a flak jacket and rush to the scene of a terror attack in case his services are required."
If this was not enough, the weekly column by Khurram Hussain—Vawda's funny joke—said the minister made a clown of himself in the Kashif Abbasi's now banned talk show. It was also beyond Hussain that Prime Minister Khan, who boasted about choosing his cabinet team on merit, would appoint a person like Vawda to take care of Pakistan's water woes. "What possessed Imran Khan to appoint Faisal Vawda as minister for water only two weeks or so after giving a televised address in which he said water was the most serious challenge that he sees the country facing? What merit has Vawda brought to a ministry that oversees the country's most important natural resource next to natural gas?"
Hussain concluded that Vawda has nothing to show for but a military boot in response to the challenge of water crisis in Pakistan. "Instead, what we have is Faisal Vawda as the minister for water, and he has brought nothing more than a boot to the table. So once we're done cracking jokes, let's ask one more time: what merit led to his appointment?"
Photo courtesy: Daily Times