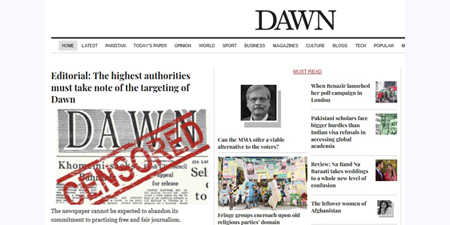 JournalismPakistan.com June 27, 2018


ISLAMABAD - Dawn on Wednesday pointed to a disturbing reality that confronts the paper and its staff.
In an editorial titled 'Targeting Dawn', the paper said that since late 2016, though with renewed and greater intensity since May 2018, the paper has been under attack in a wide-ranging and seemingly coordinated manner.
Dawn's distribution has been stopped in several areas after it published a fully on the record interview with former Prime Minister Nawaz Sharif last month.
The paper first ran into problems after publishing an article on October 6, 2016. Headlined 'Act against militants or face international isolation, civilians tell military', the story opened a new chapter of threats and intimidation against Dawn.
"Following an unjustified state-led backlash, the newspaper pledged to cooperate with the authorities as required by the law, but defended the journalistic ethic of protecting one's sources. Dawn's editor and the reporter appeared separately before a government-constituted committee, comprising members of the civil and military intelligence, and were subjected to invasive, at times unacceptable, questioning for, cumulatively, many hours," the editorial said.
The paper commented that, like all free, independent media organizations, Dawn has never argued that it does not make journalistic mistakes and errors in editorial judgement. "It considers itself accountable to its readers and fully submits itself to the law and Constitution. It welcomes dialogue with all state institutions. But it cannot be expected to abandon its commitment to practicing free and fair journalism. Nor can Dawn accept its staff being exposed to threats of physical harm."
Dawn said that it had opted to bring certain matters on record following a campaign of disinformation, libel and slander, hate and virtual incitement to violence against Dawn and its staff.
The paper called on the highest authorities to take note of the situation and intervene properly.