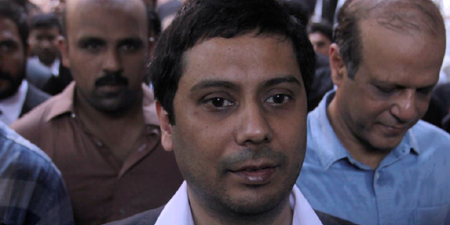 JournalismPakistan.com October 23, 2018


LAHORE – Dawn journalist Cyril Almeida in his reply filed through his advocate told the Lahore High Court on Monday that he had written verbatim the words of former Prime Minister Nawaz Sharif.
The case was filed by a civil society member Amina Malik who is seeking action against Sharif under treason charges for allegedly defaming state institutions through an interview he gave to Almeida.
Dawn quoting Almeida's response said: "The news article was published in good faith on a matter of general public interest and the words were quoted verbatim."
Dawn published the controversial Sharif's interview on May 12. It caused quite a stir after Sharif said: "Militant organisations are active. Call them non-state actors, should we allow them to cross the border and kill 150 people in Mumbai? Explain it to me. Why can't we complete the trial?"
Another former Prime Minister, Shahid Khaqan Abbasi is also a respondent in the case being heard by a three-member bench comprising Justices Syed Mazhar Ali Akbar Naqvi, Atir Mahmood, and Chaudhry Masood Jahangir.
Almeida rejected the allegation that he was taken to Multan in a special plane or given any protocol for interviewing Sharif.
His reply further stated that he "is a patriotic journalist who has been writing in the daily Dawn on matters of public importance for years and is under a constitutional duty to apprise the nation of the views of their public leaders."
He told the court that he was "neither a necessary nor proper party" in the case and requested dismissal of the petition.
The court adjourned the hearing until November 12.
Photo: Reuters