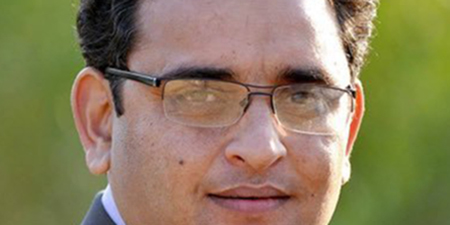 JournalismPakistan.com August 31, 2022


NEW YORK—Authorities in Pakistan's Punjab province must immediately drop their investigation into journalist Waqar Satti, allow him to report freely, and investigate threats he received in retaliation for his work, the Committee to Protect Journalists said Tuesday.
On Saturday, August 27, police in Rawalpindi filed a first information report against Satti, a senior political correspondent for the privately owned broadcaster Geo News, according to news reports, statements by the Pakistan Press Foundation press freedom group, and the Pakistan Federal Union of Journalists trade group, and the journalist, who spoke to CPJ in a phone interview.
The investigation stems from a since-deleted video posted on Satti's Twitter account on August 26, which presented quotes attributed to former Prime Minister Imran Khan of the Pakistan Tehreek-e-Insaf (PTI) party, according to those sources.
The video, which CPJ reviewed, attributed quotes to Khan that are critical of Islam and the Quran. Satti often posts political commentary on his Twitter account, with about 75,000 followers.
Authorities opened their investigation after receiving a complaint by Chaudhry Nasir Qayyum, a public relations officer for Muhammad Bashrat Raja, a PTI party member in the Punjab provincial assembly, according to Satti and those reports. Qayyum accused Satti of attributing "disrespectful" and inaccurate statements about Islam to Khan.
Satti is under investigation for allegedly violating sections of the Pakistan penal code relating to blasphemy and defamation, according to a copy of the first information report that Raja posted on Twitter.
"The launching of a blasphemy and defamation investigation into Pakistani journalist Waqar Satti is an unacceptable abuse of power by Punjab provincial authorities," said Carlos Martinez de la Serna, CPJ's program director. "Authorities must immediately drop their investigation into Satti, cease harassing him in retaliation for his work, and instead focus on investigating those who have recently threatened the journalist."
If charged and convicted of blasphemy, Satti faces up to 10 years in prison and a fine; convictions for defamation carry up to two years in jail and a fine, according to Pakistan's penal code.
Satti told CPJ that, after posting the video on August 26, he received many threats on social media from people who appeared to be PTI supporters, who threatened to kill him and his family. Satti told CPJ that he had previously received similar threats from PTI supporters through comments on Twitter.
Satti also received calls from two unknown numbers asking why he posted the videos.
In his tweet posting the first information report, Raja accused Satti of "inciting religious hatred for political point-scoring."
Satti told CPJ that he stood by the video, saying the quotes were accurate.
According to news reports, Pakistan's parliament ousted Khan from power in April 2022, but the PTI holds power in Punjab.
The country's federal Information Minister, Marriyum Aurangzeb, appointed in April 2022 by the new government led by the Pakistan Muslim League-Nawaz party, tweeted a condemnation of the investigation into Satti on Sunday.
CPJ emailed Raja's office and the PTI party for comment but did not receive any responses. CPJ was unable to find contact information for Qayyum.
CPJ contacted Punjab police Inspector-General Faisal Shahkar for comment via messaging app, but did not receive any reply.—A CPJ News Alert/Photo:Twitter (@waqarsatti)