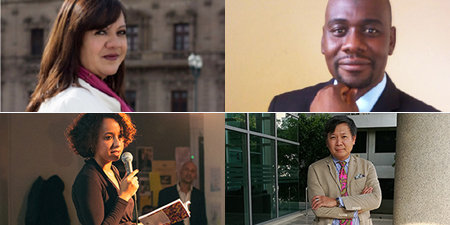 JournalismPakistan.com July 18, 2017


NEW YORK - The Committee to Protect Journalists will honor journalists from Cameroon, Mexico, Thailand, and Yemen with its 2017 International Press Freedom Awards.
The journalists have faced government harassment, death threats, or imprisonment in their pursuit of the truth. CPJ is also honoring PBS journalist Judy Woodruff with its inaugural Gwen Ifill Press Freedom Award.
CPJ's 2017 IPFA awardees are:
Ahmed Abba (top, rght) a correspondent for Radio France Internationale's Hausa service, who was imprisoned in Cameroon in July 2015. He was convicted on terrorism-related charges and sentenced in early 2017 to 10 years in prison in connection with his coverage of the extremist sect Boko Haram.
Patricia Mayorga (top, left), a correspondent for the Mexico City-based newsmagazine Proceso, who has received threats over her coverage of alleged links between Mexico's ruling party and organized crime, forced disappearances, and human rights issues.
Pravit Rojanaphruk (bottom, right), a critical reporter and press freedom advocate in Thailand, who was harassed by the government and detained twice in recent years over his coverage of Thai politics and human rights.
Afrah Nasser (bottom, left), a leading Yemeni reporter and blogger, who covers tensions in her home country from Sweden, where she lives in exile. Nasser, who also reports on human rights violations, women's issues, and press freedom, fled Yemen after receiving death threats over articles that criticized the regime during the 2011 uprising.
"Journalists around the world face growing threats and pressure," said CPJ Executive Director Joel Simon. "Those we honor are the most courageous and committed. They stand as an example that journalism matters."
CPJ's inaugural Gwen Ifill Press Freedom Award will be presented to Judy Woodruff, the award-winning broadcast journalist and managing editor of "PBS NewsHour."
Woodruff has covered news and politics at CNN, NBC, and PBS for more than three decades. The award honors the memory of Gwen Ifill, the award-winning PBS "NewsHour" journalist and CPJ senior advisor and former board member who died in November 2016. The award will be presented to individuals who show extraordinary and sustained achievement in the cause of press freedom.
"It's wonderful that the first person honored by the prize named for Gwen Ifill is her PBS partner and friend, Judy Woodruff," said CPJ Board Chair Kathleen Carroll. "Woodruff has a storied career and, like Ifill, also makes tireless contributions to the profession and to journalists. She is the epitome of the values that CPJ stands for and it is an honor to present her with the first Gwen Ifill Press Freedom Award."
All of the winners will be honored at CPJ's annual award and benefit dinner. This year's chairman is David Rhodes, president of CBS News. The host will be Christiane Amanpour, chief international correspondent for CNN and CPJ senior advisor. The event is at the Grand Hyatt New York in New York City on November 15, 2017. – Committee to Protect Journalists