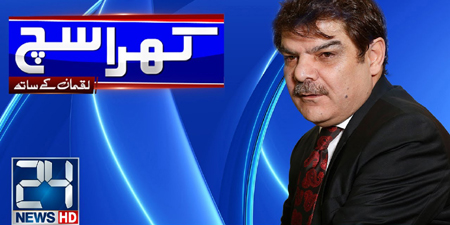 JournalismPakistan.com October 31, 2017


ISLAMABAD – The Islamabad High Court has upheld a fine of Rs500,000 on Channel 24 imposed by electronic media regulator PEMRA for airing a false report against Maryam Nawaz, daughter of former Prime Minister Nawaz Sharif.
The fake report aired in the program Khara Such hosted by Mubasher Lucman.
A PEMRA press release said the program on June 10, 2016, had falsely reported that Maryam held meetings with federal secretaries and had given them instructions on running the affairs of the government.
In that program, a picture of Maryam was shown chairing a meeting that was actually of a meeting she chaired as the chairperson of the Prime Minister's Youth Business Loan Program.
Maryam had filed a complaint with PEMRA after the program aired.
The regulator's Council of Complaints took up the matter and during its proceedings, Channel 24 was unable to prove its stance. It recommended a fine of Rs500,000 which was approved by the Authority on October 10, 2016.
However, PEMRA's decision was challenged by the licensee in the Islamabad High Court. Justice Miangul Hassan Aurangzeb after hearing the arguments turned down the appeal and upheld PEMRA's decision.
The judge ruled that "The display of respondent no. 2 (Maryam Nawaz) picture with the Regional heads of the National Bank of Pakistan in the said programme while the host/anchor was alleging that respondent no. 2 had held meetings with Federal Secretaries and had given them instructions regarding affairs of the government cannot by any stretch of imagination, be termed accurate and fair."
Lucman quit Channel 24 in September this year and has now joined Samaa TV.