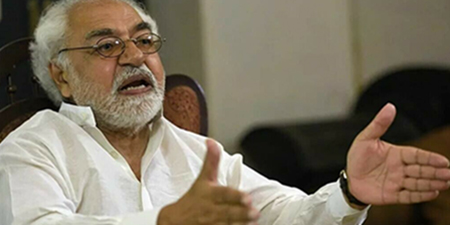 JournalismPakistan.com September 27, 2022


ISLAMABAD—Journalist Ayaz Amir was on Tuesday discharged from the murder case of his Canadian daughter-in-law by his son Shahnawaz Amir.
When Ayaz was presented before the court, the police requested five-day remand. Earlier, the journalist was handed over to police on physical remand.
Police arrested him Saturday night for his alleged involvement in the murder case of Sara Inam, a Canadian national who married his son three months back. Shahnawaz Amir allegedly murdered her at a farmhouse in Chak Shahzad.
Ayaz's lawyer, Advocate Basharatullah argued that the journalist had no connection with the case, saying police had failed to produce evidence against him.
He said Ayaz was not in Islamabad at the time of the murder and informed the police about it. He added that the journalist also has no connection with the house in Chak Shahzad. He said the police have been unable to come up with any evidence against the journalist.
When the government lawyer argued that the journalist had contacted his son on WhatsApp, Advocate Basharatullah wondered if a father contacting his son was enough evidence to enforce section 109 of the Pakistan Penal Code. He added this would make everyone who contacted Shahnawaz, a suspect.
Police became a complainant in the case, registering FIR on the complaint of Shahzad Town SHO Nawazish Ali Khan. It said on September 23, Shahnawaz's mother Sameena Shah called the police and informed them about Shahnawaz killing his wife "with a dumbbell".
After initially reserving its judgment on the police request for extending the remand of Ayaz, the judge ordered for discharging him from the case.
Photo credit: samaaenglish.tv