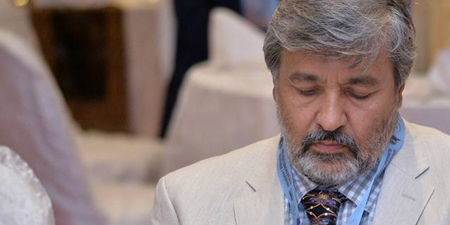 JournalismPakistan.com November 14, 2019


KARACHI — Evidence in the case of journalist Sardar Khan (pictured) has been completed, and the appointed commissioner has submitted his report to the Sindh High Court (SHC).
The SHC has ordered that the case should now be fixed for arguments.
Sardar, a former employee of Voice of America, is seeking damages to the tune of
Rs1380.3 million.
The case was filed against Asif Bajwa, the Secretary of Pakistan Hockey Federation (PHF), Voice of America (VOA-BBG), Ms. Jennifer Janin (Head of Urdu Service VOA), Razi Rizvi and Kokab Farshori, (Managing Editors in Washington), Ayaz Gul (VOA Bureau Chief), Pakistan Herald Publications (Dawn Group) along with its employees Rishad Mahmood and Shazia Hasan.
Besides plaintiff Sardar Khan, defendants Asif Bajwa, Ayaz Gul, and Rishad Mahmood gave their deposition. They were cross-examined by Sardar's counsel.
All the Washington-based VOA employees abstained and were declared ex-party by the SHC.
Asif Bajwa, Ayaz Gul, and Rishad Mahmood were grilled for about 30 hours of cross-examination.
The SHC dismissed a request from Defendant No. 2, Pakistan Hockey Federation, who contended that its name may be deleted from the case.