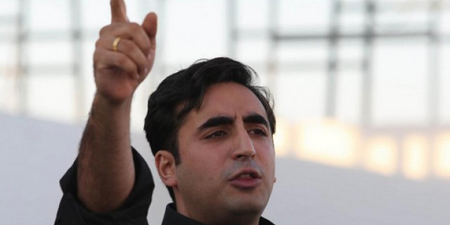 JournalismPakistan.com February 21, 2019


ISLAMABAD - Bilawal Bhutto Zardari, Chairman of Pakistan Peoples Party, has reacted angrily to journalist Mubashir Zaidi's tweet that suggested PPP would use the Sindh card over the arrest of Sindh Assembly Speaker Agha Siraj Durrani in a graft case.
The National Accountability Bureau arrested him in Islamabad on Wednesday.
Zaidi, who is one of three analysts appearing in DawnNews TV talk show Zara Hut Kay, tweeted: "Now@MediaCellPPP and Zardari will play Sindh card. NAB has given them the opportunity by arresting Siraj Durrani in Islamabad instead of Karachi".
However, the PPP chairman insisted: "Sindh is not a card! Can we end this blatant racism across all media? Why is no one accused of Punjab card, Pakhtunkhwa card or Balochistan card? If anything it's the corruption card which has historically been used for political engineering."

Photo courtesy: tribune.com.pk