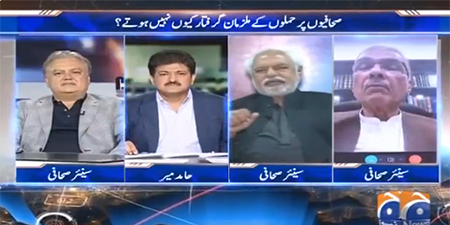 JournalismPakistan.com July 04, 2022


ISLAMABAD—Veteran journalist Ayaz Amir Monday said he was threatened and forewarned by an intelligence agency official before the attack on him in Lahore last week.
Speaking on Hamid Mir's talk show—Capital Talk—Amir narrated how he was approached by the official and asked to be moderate in his criticism.
"Last week, a guest, who took a prior appointment, came to meet me. He came to meet me at the inn where I normally stay in Lahore," he said.
"He told me which agriculture or irrigation department he belongs to," Amir said about the intelligence agency. "We had a pleasant meeting. Only at the end, he said, and these are his words I am quoting. I am here only to request that you should be moderate in your criticism (haath hola rakha karain)."
The visitor pointed upwards when Amir asked him against whom he should be moderate in his criticism. "I am alive to the sensitiveness of your program, and I don't want to say much," Amir said as Hamid Mir chuckled.
This meeting, according to Amir, was before the seminar in Islamabad. "When my speech at the seminar concluded, and I was still at the Marriott, that same gentleman's message arrived, saying Sir, you did not heed my words."
However, Amir said that after an hour, the gentleman sent another message, saying, "I have seen and read your speech and found it balanced."
Amir, who was attacked following his speech at the seminar, said his mobile phone was taken away during the assault on him. "Two days back when I got the phones back. Only the number and the two or three messages of the gentleman were missing from the phone. That is what I wanted to tell you."