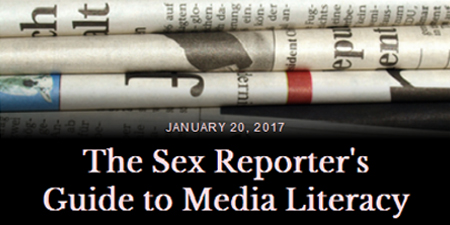 JournalismPakistan.com September 02, 2017


NEW YORK - Loretta Chao, former Wall Street Journal technology reporter and foreign correspondent, has launched a new digital publication for sex positive journalism, TheSexReporter.com.
The website, which features objective reporting, analysis and open discussion of all things related to human sexuality, hosts content from Chao as well as other journalists, experts, and content creators. The website's coverage spans a variety of subjects, from virtual reality porn from a female perspective to the history of stigmas against sexually transmitted infections.
To better serve readers TheSexReporter.com also includes a reference list of sex positive journalists, authors, and experts, as well as resource guides on media literacy and data pertaining to sexual health and the value of sex in various industries.
"I want to create a space for that sex positive content without the need for sensational headlines and cute euphemisms; a space that will provide useful, accessible, information and perspectives about this very important part of society," said Chao, who is also enrolled in a clinical sexology program at the Institute for Advanced Study of Human Sexuality. "There are some amazingly talented people who cover sex in an informed, objective way, or who have a voice that can move the conversation forward."
"Sexuality is a fundamental part of culture. It should be reported on and discussed intelligently, just as we discuss politics, arts, and science," said Kate McCombs, sex, and relationships educator and founder of Sex Geekdom.
"In a world where, for better or worse, people are Googling their sex questions, high-quality sex positive journalism is a critical public service. Far too often, sex articles are written for clickbait and sensationalism, which can perpetuate shame and misinformation. By telling real stories backed by proper journalistic rigor, sex positive journalism can be the antidote."
TheSexReporter.com will utilize social networks to grow its audience, and is raising funds through a mix of advertising, sponsorship, crowd-funding and commissioned work. It represents a new model for independent journalism at a challenging time for the media industry, which is expected to lose almost 10% of journalists in 10 years, according to the U.S. Department of Labor.
Chao's goal is to reverse that trend, using technology to streamline TheSexReporter.com's best practices and offer them as easy-to-use tools for other independent journalists. A higher number of reporters who can monetize their own content will ultimately expand coverage of topics that have become causalities of media shrinkage: local and niche news.
"We need to stop waiting for that billion-dollar silver bullet that's going to solve the media industry's problems," Chao said. "The demand for content is there. Let's think about how we can use existing tools and platforms to empower the many thousands of talented people to do what they do best, on their own."
Loretta Chao started the site after nearly 12 years at The Wall Street Journal, where she covered technology and business. She was also a foreign correspondent in Brazil and China, where she won awards for her coverage of Internet censorship and surveillance. - PRNewswire-iReach.