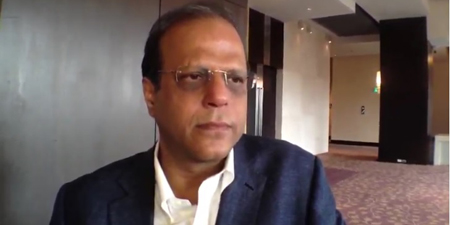 JournalismPakistan.com April 24, 2019


ISLAMABAD - Journalists took to Twitter to congratulate Dawn journalist Cyril Almeida on being named World Press Freedom Hero by International Press Institute (IPI).
In his first comments, Almedia gave credit to his editor Zaffar Abbas (pictured) for standing up to "significant coercion."
In a tweet, Almeida said: "In truth, the hero is Zaffar Abbas, Editor, Dawn, @abbasz55 who has unflinchingly fought for his paper and his staff in the face of significant coercion, intimidation and threats - much more so than is publicly known. Keep up the good fight, Ed sb. Pakistan belongs to everyone."
In 2016, Almeida was briefly placed on the Exit Control List (ECL) after publishing an exclusive story in Dawn regarding an important meeting of civil-military leaders.
The IPI said the story prompted enormous controversy in Pakistan. "Both Almeida and Dawn's top editor were subjected to a widespread smear campaign and dragged before a tribunal in an effort to force Dawn to reveal its sources."
Abbas Nasir, a former editor of Dawn, tweeted: "Proud of my colleague and friend @cyalm for his unflinching commitment to the truth. Congrats and well done to him, his editor @abbasz55 and the Dawn team for standing their ground."
Zaffar Abbas also congratulated Almeida. "Congratulations. Well deserved. What a proud moment for Cyril and Team Dawn."
Novelist Kamila Shamsie termed the award a well-deserved accolade for Almeida.