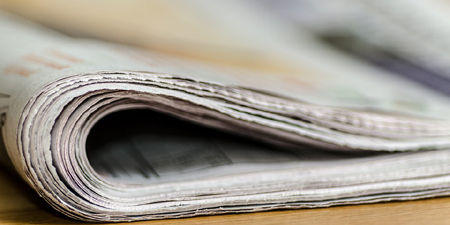 JournalismPakistan.com March 31, 2019


The general council of All Pakistan Newspapers Society (APNS) has expressed grave concern over the unprecedented crisis plaguing the newspaper industry.
The annual meeting of the council took place on Saturday.
The council said in a statement that the crisis had caused liquidity problems for all segments of the print media, resulting in the closure of many newspapers and unemployment of over thousands of journalists and media workers.
"The consistent indifference of the federal government to bail out the newspaper industry would further aggravate the situation."
The general council pointed out that the federal and provincial governments have not paid the long outstanding bills of media despite various assurances and commitments.
The council advised the new executive committee to take up the matter with the federal and provincial governments and take appropriate steps for early recovery of the dues.
The APNS elected Hameed Haroon as president, Rameeza Majid Nizami senior vice president, Mumtaz A. Tahir as vice president, Sarmad Ali secretary-general, Syed Muhammad Munir Jilani joint secretary and Shahab Zuberi as finance secretary of the society for 2019-20.
The election commission conducted the election of the executive committee for 2019-20. Following were elected unopposed:
Karachi Daily Seats: Aghaz, Business Recorder, Dawn, Deyanat, Jasarat, and Jiddat.
Lahore Daily Seats: Abtak, Jang, Nawa-i-Waqt, Pakistan, and Tijarat.
Rawalpindi/Islamabad Daily Seats: Ausaf, and Sahafat.
Balochistan Daily Seats: Awam, and Mashriq.
Khyber Pakhtunkhwa Daily Seats: Mashriq and Wahdat.
Sindh (Excluding Karachi) Dailies: Kaleem and Kawish.
Punjab (excluding Lahore/Rawalpindi/Islamabad): Aftab, Business Report, and Paigham.
General Seats (Metropolitan Dailies): City 42 and Pakistan Observer.
General Seats (Regional Dailies): Ibrat and Sayadat
Periodicals Seats: Monthly Center Line, Monthly Naya Rukh, Naey Ufaq, and Monthly Roohani Digest.
News & News Comments Periodical (Punjab/KPK): Weekly Nikhar
News & News Comments Periodical (Sindh/Balochistan): Weekly Al Akhbar.
News & News Comments Periodicals (General): Monthly Women's Own.
The executive committee elected Fauzia Shaheen, Monthly Dastak, Karachi on a woman - publishers seat and co-opted Daily Dunya on the vacant Lahore Daily Seat.
The annual general council elected Nasir Daad Baloch of Daily Sindh Sujaag, Karachi as member emirates.