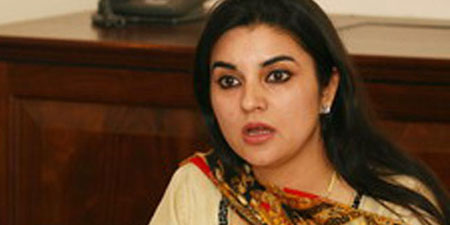 JournalismPakistan.com March 10, 2018


KARACHI – The All Pakistan Newspapers Society (APNS) has condemned Kashmala Tariq (pictured), Federal Ombudsperson on Protection against Harassment of Women at the Workplace for misbehaving, manhandling and detaining the Nawa-i-Waqt media team at her office.
Sarmad Ali, President, and Umer Mujib Shami, Secretary-General, APNS stated that as per press reports and material on social media, Matiullah Jan, reporter, leading the Nawa-i-Waqt team, had a scheduled interview with the ombudsperson.
He was attacked and harassed on the order of Kashmala Tariq, and the equipment was confiscated as she was enraged and disliked the questions asked during the interview. The unfortunate episode speaks of an indecent, intolerant and undemocratic approach of the public office holder which is unacceptable, the APNS said.
"The APNS office-bearers are of the considered opinion that the interference in the performance of professional duties of journalists by a public office holder is a negation of democratic norms and remnant of dictatorial mindset. They appealed to the prime minister of Pakistan to take notice of the incident and direct the federal ombudsperson for a public apology. - An APNS media release/Photo courtesy: lawsofpakistan.com