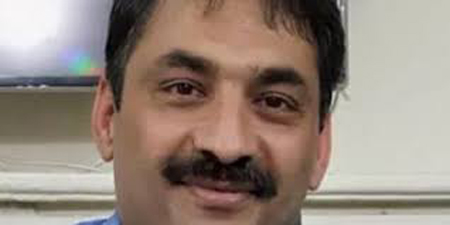 JournalismPakistan.com August 31, 2020


ISLAMABAD—Without naming ARY News, Ahmad Noorani (pictured) has expressed fear for his life, saying the channel has called him a traitor and Indian agent.
Noorani, who did a story on the assets of Gen. (Retd) Asim Saleem Bajwa and his family, said in a tweet in Urdu that a news channel was using his photos and terming him a traitor and an Indian agent.
Gen. Bajwa, the chairman of CPEC, has denied the story. "A malicious propaganda story published on an unknown site, against me and my family, (just uploaded on social media) is strongly rebutted," he said on Twitter.
Noorani said the ARY story was an effort to provoke somebody to kill him, and that he had received death threats after the report aired.
He also regretted that no journalist or journalist organization or even the National Press Club issued a statement condemning the channel.
ARY alleged that Noorani, and two other journalists Mubashir Zaidi and Gul Bukhari had plotted the story. The channel also questioned Noorani and Zaidi's credibility.
However, some journalists backed Noorani. Talat Aslam said: "This is extremely shameful. My full support and solidarity with you."
Abbas Nasir, a former editor of Dawn, tweeted: "You are hailed as a hero when you malign politicians largely based on hearsay but dare you raise questions about a former senior officer's corporate interests based on documentary evidence, you must be RAW-funded. Despicable for anchors to join such games against journalists."
Matiullah Jan was also harsh in his tweet. "The @ARYNEWSOFFICIAL & @Salman_ARY should be ashamed of themselves for indulging in hate speech against a fellow journalist Ahmed Noorani. They owe an apology. Pakistanis and journalists will never forget this treacherous conduct and those who scripted it and did the voice-overs."