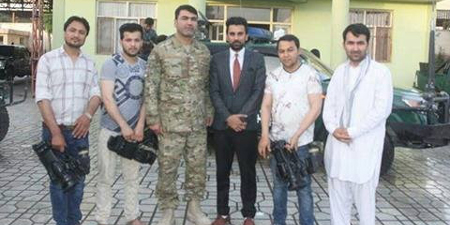 JournalismPakistan.com May 26, 2017


The International Federation of Journalists (IFJ) and the Afghan Independent Journalists Association (AIJA) have criticized the actions of the provincial governor of Baghlan, who walked away from an interview with journalists and then ordered their detention in Afghanistan.
The IFJ demanded an apology from the governor and a guarantee that he will respect media freedom and journalists' rights.
On May 25, Governor Abdul Hai Namati cut off a television interview stating that he didn't like the questions. He was been interviewed for a program called 'Face to Face' on Arezo TV.
There were four journalists for the interview, who were subsequently threatened and ordered to delete the footage. When they refused to delete the footage, they were blocked from leaving the governor's office premises. Ahmad Fawad Talash, Javid Saddat, Said Amin Jalali and Salam Fretat were held for two hours and were only allowed to leave after intervention from media rights organizations.
Speaking to AIJA, Governor Namati denied ordering the detention of TV journalists and said he only excused himself from answering repeated questions.
Hujatullah Mujadidi, the vice president of AIJA, condemned the illegal act by the governor. He said: "The AIJA condemns the mistreatment of Arezo TV journalists and urges local governance department to probe the incident to find out facts. The AIJA also applauds the cooperation of provincial police office for safe transportation of Arezo TV staffers out of the premises."
The IFJ said: "The detention and harassment of journalists for conducting a scheduled interview raises serious questions about the respect for media in Afghanistan. The role of the media is to act as a watchdog and hold the powerful to account, however, incidents such as these only weaken the ability of the media to do its job. We call on the governor to issue an immediate apology to the journalists." – IFJ media release/Image AIJA: Arezo TV journalists.