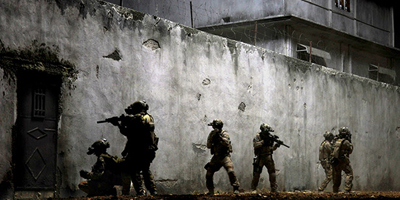 JournalismPakistan.com February 17, 2013 Chatterbox

LAHORE: I would be putting it lightly if I said I was peeved. Indeed, frustrated and disgusted would seem more appropriate. My good friend and JournalismPakistan.com contributor Zeebee (Saigol) has advised me to calm down, but I'm also pissed with him. He has taken to flogging dead horses and I pointed this out to him. Now he has his nose out of joint.
"Writing about corruption within Pakistan's media is nothing new," I had pointed out rather tactlessly.
"That goes for you too," he said and put the phone down.
It took me a few minutes to realize what it was that was really bugging me; that ridiculous movie… Zero Dark Thirty! It just amazes me how crass Hollywood can be. What really riles me is that film is an important media and must be used wisely. But just like the Nazis, the Commies and others before them, the US of A's film media has plunged to new lows in churning out base propaganda through this film.
The lack of proper research, dozens of glaring discrepancies and gross misrepresentation is shocking, nay… disturbing!
What is even more shocking is the fact that Pakistan's ever so sensitive media has not uttered or written a word to correct or counter the image-bashing the country is taking because of Zero whatever the f---.
Those paragons and guardians of the country's honor have looked the other way as this two-hour-long exercise in abuse is on the verge of garnering top honors at the Oscars and its inept director is put on a pedestal as a visionary for her 'ground-breaking' work.
Wow!!
Media folks like Hamid Mir, who wears his 'izzat' on his sleeve, Talat Hussain, that so-called voice of reason, and Meher Bukhari, that modern journalistic diva, all have looked the other way, concentrating on other much more important matters. After all, it is but a film. Entertainment…no?
Patriotism, it seems, is subjective when it comes to these media biggies.
It seems they think it is okay that in the movie:
- It takes the Pakistani Air Force an eternity to scramble their jets when three US stealth choppers spend more than half an hour weaving their way through the mountains and hills on the way to Abbottabad, when in truth there are more than three air bases and military facilities that are in close proximity and can be there within minutes.
- When the film shows that OBL's hideaway is some 'yards' away from Kakul, our "Westpoint".
- That Islamabad is shown as a lane-heavy village with hundreds of dark skinned people teaming about.
- That foreigners and diplomats do not live in the high security Diplomatic Enclave and are shot at by terrorists as soon as they come out of their residential gates.
- That alcohol was being served and consumed at the Marriot when a suicide bomber rammed it just before Iftar during Ramadan.
- That residents of Abbottabad speak Pashto and Arabic (not Hindko) and understand English but not Urdu!
- That dozens of women roam around Shalimar Garden, all dressed in burka.
- That SUV's such as Nissan Patrols, Toyota Land Cruisers, Range Rovers, Land Rovers and Hummers, which we know are in plentiful, are said to be 'rare in Pakistan'.
- That the silly half-jeep looking thing OBL's confidante and messenger drives is not found in Pakistan. It is of Indian manufacture.
- When women dress in saris to buy vegetables.
- When the US embassy has the worst furniture and filthiest kitchen sinks I have ever seen.
- That the official saying his prayers in the Pentagon/Langley is uttering the wrong words.
- That the Azaan is always sounding no matter what time of the day it is.
- That names of Abbottabad, Peshawar, Ghaziabad etc are pronounced wrong.
- That all women in Pakistan wear blue burka.
- That kebabs is the only food found in Pakistan.
Etc. etc.
We are quick to call people kafirs. We are quick to gun down people like Salman Taseer. We believe a 12-year old can be a blasphemer. We get fired up when the Indians kill our soldiers; when somebody in some far off land like the West Bank gets killed. When some idiot retard draws cartoons that are offensive or some stupid Egyptian film-maker makes a film that is totally unacceptable.
Well this is also unacceptable.
Please stand up and be heard.
Please tell the world, Pakistan is not Chandigarh (the location of the film)!!