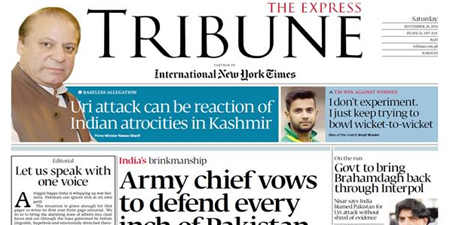 JournalismPakistan.com September 24, 2016


ISLAMABAD – Prompted by the alarming state of affairs between a 'trigger-happy India' and Pakistan, The Express Tribune Saturday published its first-ever front page editorial.
Titled 'Let us speak with one voice', the editorial attempts to bring into clear focus the grave prevailing situation. Under new editor Fahd Hussain, who replaced Kamal Siddiqi this month, the Tribune also becomes the first newspaper in Pakistan to run an editorial on the current situation on its front page.
"A nuclear-armed India threatening violence on a nuclear-armed Pakistan, whichever way you look at it, this cannot end well for either party. And yet the prospects of violence remain real," the paper warned.
"Pakistan's reaction to India's dangerous brinkmanship has been restrained but firm. This is a good start. There is no need for Islamabad to indulge in a slanging match with India. The more that New Delhi threatens violence and spews venom at us through its proxies in the media and elsewhere, the more it resembles a state that is unable or unwilling to act maturely in the face of pressure," the editorial said.
The paper commented: "Let us be very clear: if we did not have this nuclear shield over our heads, India would not have thought twice before embarking on a military adventure."
In the aftermath of the Uri attack, in which several Indian soldiers were killed, the paper wrote that New Delhi may froth at the mouth all it wants; it cannot wish away the fact that it is a brutal occupying power with the blood of Kashmiris on its hands."
The editorial said that Prime Minister Nawaz Sharif must categorically state that the Line of Control is a red line, which if crossed in any way, at any time will trigger an immediate and decisive retaliation. "We do not want violence but India must never forget that Pakistan is not Nepal or Bhutan.
"This message must be delivered in one voice by the state and the citizens of Pakistan. There is time to discuss the failings of short-sighted policies and their negative consequences. This is not the time. Make no mistake: we are faced with clear and present danger from India. This threat must be met with resolute determination.
"India needs to snap out of its self-propelled hysteria and act its size, if not its age," the paper concluded.