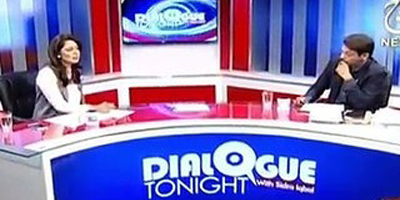 JournalismPakistan.com January 07, 2016


ISLAMABAD: The Pakistan Electronic Media Regulatory Authority (PEMRA) Thursday advised Aaj News Television managers to train their anchors properly after a guest on a talk show "intentionally" used bad words against the government and Prime Minister Nawaz Sharif.

In the program 'Dialogue Tonight with Sidra Iqbal', telecast on January 5, 2016, the guest Faisal Raza Abdi used baseless and indecent words which were aired without exercising any editorial control, PEMRA said.

The authority quoted Abdi as having said: "Akhund Baharat is not the name of Pakistan, Bangladesh, India...it is the name of industrial giant...for which Nawaz Sharif was an agent....."

PEMRA said this was immediately pointed out to Aaj management but when the program resumed after a break, Pakistan was accused of conspiring against China. The regulatory body quoted Abdi as saying: "Pakistan has stabbed China in the back....."

These are grave allegations, PEMRA said that violate Article 19 of the Constitution of Pakistan and Section 20 (c) of PEMRA Amendment Act 2007. They also violate the Code of Conduct 2015 enforced by the Supreme Court.

PEMRA warned any future violation would prompt legal action against the channel.