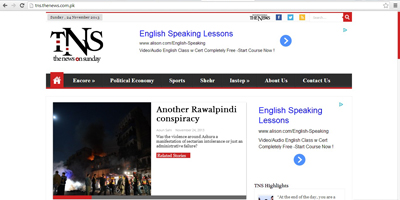 JournalismPakistan.com November 24, 2013
ISLAMABAD: The News on Sunday (TNS) has launched its dynamic new website much to the delight of thousands of its readers across the country.
It took about four months of work to get http://tns.thenews.com.pk/ up and the finished product is stuff from the top drawer.
"A whiff of fresh air ...very impressive layout and presentation," said journalist Aamir Saeed who freelances for Reuters.
Bushra Sultana, the magazine's associate editor is credited with bringing the website up.
The home page has four slides or stories running on top and features the popular Encore, Political Economy, Shehr, and Instep sections.
The News on Sunday is the weekly magazine of the widely-read English daily The News. Beena Sarwar founded the magazine in 1994 as The News on Friday.
The website's 'About Us" section claims "The News on Sunday has emerged as a platform for dissenting voices and for challenging and questioning the status quo."
Previously the TNS content could only be accessed online through The News website www.thenews.com.pk.