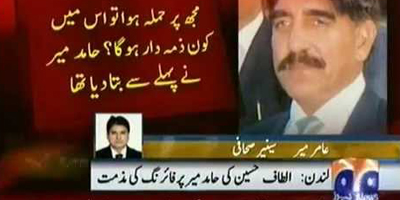 JournalismPakistan.com May 07, 2014
ISLAMABAD: In a fresh swipe at its industry rival, English daily The Express Tribune Wednesday termed Geo Television's accusations against the ISI and its chief a bigger crime than the News of the World's.
The paper owned by the Express Group that also runs Express Television said Geo TV and Jang Group and their allies were continuously trying to create an impression that if any legal action was initiated against them, it would be tantamount to suppressing freedom of expression.
In a story captioned 'Geo committed bigger crime than News of the World' the paper pointed out that Britain's 168-year-old paper was forced to close down over a phone-hacking scandal.
"No one raised objection on its closure nor did any one term it a violation of the freedom of press," it said. "In fact people appreciated the decision and said that the newspapers should not intrude into the private lives of people."
The paper quoting analysts it did not name, said that the Jang Group was terming the mudslinging campaign it conducted against a national security institution after the attack on Hamid Mir as an act of using the freedom of expression.
"...the group tried to take advantage of the limitless freedom of the press here and not only created misunderstandings in the minds of the people but also gave the enemy country an opportunity to criticise."