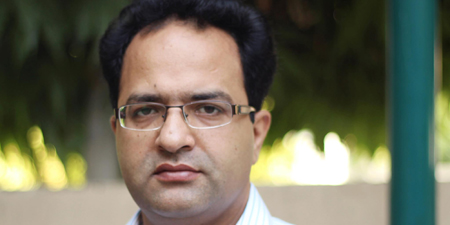 JournalismPakistan.com December 26, 2016


LAHORE – Progressive Panel swept the elections of Lahore Press Club Sunday with Muhammad Shahbaz Mian (pictured) being re-elected president for a second term.
Mian polled 1097 votes to defeat his rival Javed Farooqi of Journalist Panel who got 694 votes, according to official results.
On the other hand, Abdul Majeed Sajid with 884 votes became the new secretary general edging Zulfiqar Ali Metho (853).
Zahid Gogi was elected the vice president polling 937 votes to beat Nasira Atiq (736) and Al Sultan Shamsul Haq Qazzafi.
Ahsan Shaukat claimed the position of joint secretary with 1038 votes. His nearest rival was Rana Shahzad Ahmad (502).
Sheraz Hasnaat became the treasurer bagging 978 votes leaving Yousaf Raza Abbasi (670) and Syed Babar Shah (108) behind.
Members of the governing body elected were: Qasim Raza (652), Muhammad Shahnawaz Rana (629), Ismail Jhakar (610), Salman Qureshi (610), Rizwan Khalid (605), Salik Nawaz (602), Nauman Wahab (596), and Nasir Ghani (587).