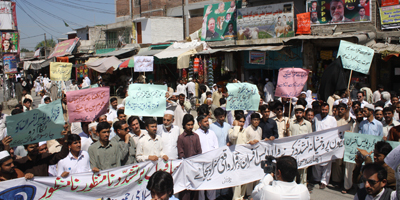 JournalismPakistan.com May 20, 2012 Zeeshan Yousafzai

CHARSADDA: People from different walks of life have protested police highhandedness against journalists in the Khyber Pakhtunkhwa district of Charsadda.

Last week police baton-charged a mob protesting power load-shedding that left two media persons covering the event injured.

Those injured were Siraj Ali, a cameraman of Geo TV and reporter Sher Ali Khan who works for NewsOne channel. The protesters Saturday called for registration of First Information Reports (FIRs) against cops who beat up media men and others.

Comprising political activists, lawyers and representatives of various organizations, the protesters started their march from Charsadda Press Club. The march turned into a big rally at Farooq Azam Chowk.

The participants chanted slogans against police for abusing power. They demanded immediate action against those involved in the incident and threatened to stage a sit-in in front of the Inspector General's office Monday if their demands were not met.