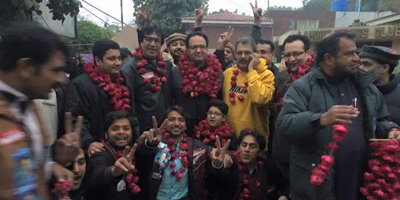 JournalismPakistan.com January 18, 2016


LAHORE - Progressive Panel made a clean sweep in the annual elections of Lahore Press Club - Muhammad Shahbaz Mian being elected the president and Shadab Riaz as the secretary.

Mian polled 981 votes defeating former president Arshad Ansari who got 834. Abdul Majeed Sajid with 928 votes became the vice president. For the secretary's slot Riaz had 996 votes.

Zaheer Ahmad Babar (984 votes) was elected the finance secretary and Zahid Gogi (1002 votes) as the joint secretary.

Rana Shehzad (608 votes), Imran Sheikh (601), Mohsin Ali (581), Azhar Maqbool (561), Jawad Rizvi (559), Ismail Jhakar (545), Furqan Ilahi (543 ) and Sher Afzal Butt (513) were elected as members of the governing body - all representing Progressive Panel.

The press club elections, originally scheduled for December 30, were disrupted following allegations of rigging and clashes between rival groups. The polling was cancelled and January 17 was announced as the new date for elections.
Relevant post: Gate-crashing, fist-fight mar annulled LPC polls
Image courtesy: Daily Pakistan Global