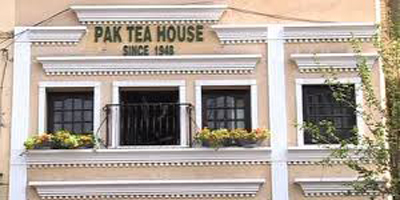 JournalismPakistan.com March 26, 2013 By Chatterbox

LAHORE: I guess I'm a bit pissed at JournalismPakistan for missing an important bit of news. JP Chief Editor Steve Manuel made the excuse he's out of the country and, therefore, not always in the loop. The Managing Editor, Imran Naeem Ahmad is strangely and conveniently incommunicado. Meanwhile, recently Pakistan Muslim League (N) chief, Nawaz Sharif, graciously reopened Lahore's iconic Pak Tea House. This was the news they missed.
The favored meeting place of writers, poets, artists, intellectuals and journalism, Pak Tea House had remained closed for over 13 years. What really bugged me was that the one day I pick to go to Karachi and I missed something like this. I'm told there were quite a number of really 'cool literary' people I missed as well.
Ah well. Why cry over spilt milk?
Let me rejoice in the fact that this amazing institution is once more. When it was shut down in 2000, due to lack of business and a few unpleasant incidents, the literary community lost yet another place to meet. Over the years there have been others that have tried to capture the spirit of the Pak Tea House but failed. Just not the same.
Lords Restaurant in Lahore was second-hand place for writers and journalists and in Rawalpindi there were two places of non-descript nature near Liaquat Bagh that journalists and writers frequented. The same in Karachi. The Press Club is not the same as these alternative meeting places. They all flattered to deceive.
It's not easy to cough up past patrons such as Faiz Ahmed Faiz, Ibne-e-Insha, Agha Shorish Kashmiri, Sadaat Hasan Minto and Ahmed Faraz.
Perhaps Nawaz Sharif was being genuine when he said he was proud to reopen Pak Tea House and perhaps he was cashing in on a good thing. After all the elections are just around the corner and why not garner whatever support from wherever, however?
One way or the other it will be good to see the doors of this incredible place, so close to the historical Anarkali Bazaar, YMCA and the Punjab University's Art Department, open once again.
Before Partition, Pak Tea House was known as India Tea House and was owned by a Sikh family. After Partition, a person named Siraj-ud-Din rented it from the YMCA administration and renamed it Pak Tea House. However, in the 90's the tea house ran into all sorts of problems and the owners decided it would be better to shut it down and open a new business in its place.
However, the literary community fought tooth and nail against this and even went to court. The tea house interior and exterior has been renovated and brought back to its original glory.
No wonder Sharif looks so pleased.
Can't say how I feel about Steve and Imran.