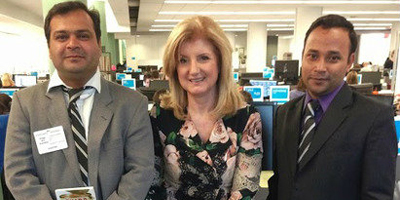 JournalismPakistan.com July 10, 2013
ISLAMABAD: This year's Daniel Pearl Journalism Fellow Khalid Khattak (left) of The News Lahore is due to participate in a public discussion hosted by the Los Angeles Press Club on August 22.
Also taking part in the discussion will be Bangaldeshi fellow Emran Hossain (right), pictured with Arianna Huffington at The Huffington Post's New York office.
According to the Daniel Pearl Foundation's July newsletter, Khalid is working at the Washington Bureau of The Wall Street Journal while Hossain is associated with The Huffington Post's office in DC.
The newsletter says Rob Eshman, the Jewish Journal's publisher and editor will moderate the discussion.
The Daniel Pearl Foundation was founded in 2002 by friends and family of The Wall Street Journal's South Asia Bureau Chief Daniel Pearl after his murder in Pakistan by Islamic extremists.
The previous Daniel Pearl Fellows from Pakistan are Fasih Ahmed (2003), Ammara Durrani (2005), Shahid Hussain Shah (2006), Umar Cheema (2008), Shahzada Irfan Ahmed (2009), Aoun Sahi (2010), Aatekah Ahmad Mir (2011), Adnan Rashid (2012).