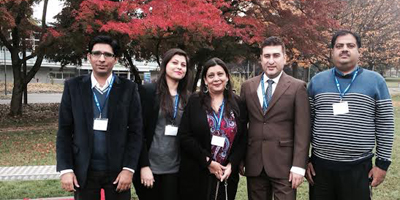 JournalismPakistan.com November 07, 2015


TURIN, Italy: Four Pakistani journalists and a representative of the International Labour Organisation (ILO) Pakistan Office have successfully completed the residential phase of "Communicating Labour Rights"- a training course offered by the International Training Center of ILO (ITCILO) for media professionals.

The training course that runs from 26 October, 2015 through 4 December, 2015 brought the participants to Turin, Italy for its residential phase that started on 2 November, 2015 and ended on 6 November, 2015.

The Pakistani journalists who participated in the training course were Aoun Sahi (Bureau Chief, Channel 24, Islamabad), Iram Noor (Editor, You Magazine, The News), Muhammad Kamran Butt (Documentarian, Geo TV) and Shahzada Irfan Ahmed (Senior Correspondent, The News on Sunday, The News). The ILO Pakistan office was represented by Hiba Siddiqui, Programme Officer, Gender Equality for Decent Employment (GE4DE).

The selection of Pakistani journalists for the course was made on the basis of an open competition announced by ILO Pakistan for media professionals working on labour issues. A special emphasis, however, was on the coverage of these issues with gender lens. The winners were announced under the four categories: Best Entry of the Year, Best Documentary of the Year, Labor Reporter of the Year (Female) and Labor Reporter of the Year (Male) in March 2015. All the winners were working for Jang Group at the time of announcement of the results.

"The course is tailored for newcomers to the ILO and its ILS system. It is addressed to journalists, correspondents, reporters, editors and publishers, working in all types of media (print, radio, television and the Internet). Public relations professionals and press officers of employers', workers', governmental and non-governmental organizations, including ILO information and communication officers, are also welcome," says the website of the center.

It adds that ITCILO trains journalists and other media professionals on the relevance of international labour standards (ILS) adopted and supervised by the ILO to accurate and responsible media reporting, which is likely to increase public understanding of the internationally recognized rights at work. As of today, more than 250 people have already been trained under this program.

This course also aims to strengthen participants' capacity to use international labor standards and the ILO's supervisory work to raise public awareness of internationally recognised human rights at work, and their relevance to local social issues.

Countries such as Belgium, Cambodia, Cameroon, Georgia, India, Indonesia, Philippines, Russian Federation, Sri Lanka, Thailand and Vietnam were also represented at this course.