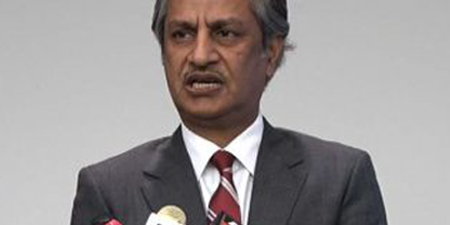 JournalismPakistan.com May 08, 2017


ISLAMABAD – Absar Alam, Chairman Pakistan Electronic Media Regulatory Authority (PEMRA) Monday sought security for himself and his staff after receiving threating phone calls.
"It's becoming increasingly difficult for PEMRA to continue performing its duties in these conditions," he said at a news conference here.
He requested the prime minister, the army chief and the chief justice to take notice and ensure they are provided security.
An audio of a threatening phone call was played during the presser. The caller pressures a PEMRA employee to restore the transmission of a channel taken off the air, in five minutes.
Alam has acted strongly against violators since taking over in November 2015, even temporarily shutting down a few channels.
On May 3, PEMRA announced the cancellation of BOL News and Pak News licenses after the interior ministry did not grant clearance to four of their directors. But the following day the Sindh High Court suspended the PEMRA order.
Alam pointed out that PEMRA could not be an effective watchdog if faced with stay orders all the time. He said that each time they acted against violators, the courts granted the channels stay.
He said he would take the security issue to the Supreme Court.