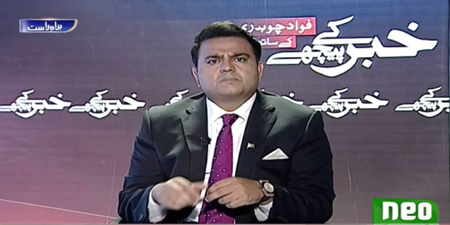 JournalismPakistan.com March 28, 2017


ISLAMABAD – Pakistan Electronic Media Regulatory Authority (PEMRA) has issued a directive to Neo TV for analyzing and commenting on a reference pending before the Supreme Judicial Council.
The regulator said this was a violation of Supreme Judicial Council's orders dated 21 November 2015. These orders, it said were sent to all television channels on 23 November 2015.
These orders did not allow for public reporting of references pending in the Supreme Judicial Council. Only the judgment could be reported.
The violation by Neo TV occurred in its program Kahbar Kay Pechay on 13 March 2017. The host Fawad Chaudhry and guests Arif Chaudhry and Mustafa Nawaz Khokhar analyzed and commented on a pending reference.
PEMRA advised the channel to refrain from commenting on or analyzing the conduct of the honorable judges or on pending references.
"Only the Supreme Judicial Council has the right to decide on the honorable judges' conduct and not any anchor or analyst," the regulator made it clear.
Image courtesy: pakdicussion.com