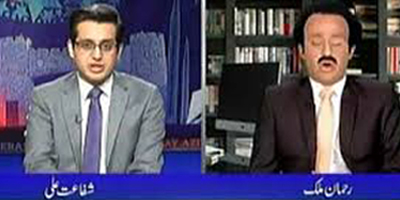 JournalismPakistan.com June 19, 2016


ISLAMABAD - PEMRA's Council of Complaints has directed Channel 24 to air an apology during prime time after hearing a complaint filed by Senator Rehman Malik.
The decision was taken at the 38th meeting of the Islamabad Council on Saturday. A PEMRA statement said Channel 24 managers had apologized for the lapse during the meeting. However, they have now been told to air a prime time apology.
The complaint relates to broadcast of a parody Malik considered 'humiliating and derogatory' in the program 'Meray Aziz Humwatno'.
On the other hand, the PPP senator's complaint against Geo TV, was deferred after the channel submitted its response. The house has asked Malik to submit his views on it.
Related post from JournalismPakistan.com Archives:
PEMRA refers senator's complaint against Channel 24 to its Council