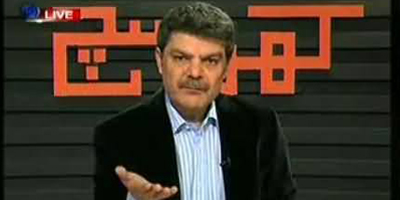 JournalismPakistan.com April 20, 2015
ISLAMABAD: Mubasher Lucman, popular host of program 'Khara Sach,' has resigned from ARY News Television and started his program online on Twitter with the hashtag, "KharaSachOnTwitter."
"Hope you like the inside news we bring to you. Team Khara Sach is dedicated to serve the people," he announced on Twitter.
A source told JournalismPakistan.com that Lucman and his team were in touch with the upcoming BOL News management and may join the group soon. "Lucman and his team have quit ARY News as they were under pressure from the channel's management due to slew of cases against them in different courts including the Supreme Court," he said.
Lucman has, however, announced to continue exposing mega scandals of corruption of the ruling party on Twitter. "Let me tell you how it will work for the first few days. I shall give around twenty five tweets of a story and then you can ask questions," he tweeted Sunday night.
He also plans to start audio and video feed for his followers through Skype to make his program on social media interactive. "In three to four days we shall be organizing live audio video feed through Skype and taking questions online on Twitter," he said.
Lucman is one of the most popular journalists and anchors on social media with over 1.2 million followers only on Twitter.
He started his career as a film producer and then turned into a journalist. In 2009, he started his first current affairs program on Dunya News, "Khari Baat Lucman Ke Saath." In June 2012, he was fired from Dunya News after some off air conversation of his interview with property tycoon Malik Riaz surfaced on YouTube.