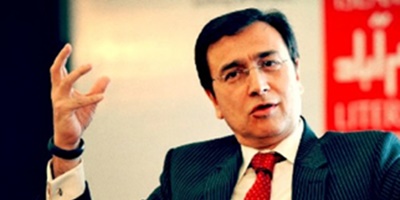 JournalismPakistan.com August 07, 2015
ISLAMABAD: Anchorperson and analyst Moeed Pirzada has been arrested in Abu Dhabi (United Arab Emirates), but the reason for his arrest is yet to be ascertained, the Foreign Office said Friday.

"Moeed Pirzada was arrested in Abu Dhabi on August 4," a FO spokesperson told The Express Tribune. "Our embassy in the UAE is in contact with authorities over there and will provide all possible assistance to Pirzada," the spokesperson added.

Pirzada, however, tweeted seven hours ago: "My father is critically ill and spending time with him overseas. Keep us in your prayers!"

On the other hand microblogging website Twitter was abuzz with claims that he has been arrested for forging property documents.

If true, Pirzada's arrest comes on the heels of Pakistani analyst and commentator Zaid Hamid who was arrested in Saudi Arabia while on a private visit to the Kingdom with his wife. He was apparently taken into custody for making speeches against the Saudi government.