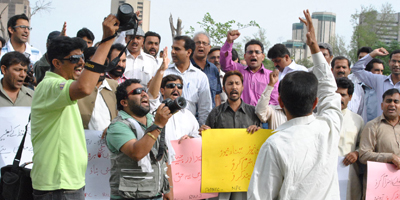 JournalismPakistan.com May 25, 2012
ISLAMABAD: Journalists gathered for a cause Friday – to protest the sackings of their colleagues by several media houses - but strangely enough hardly anyone from among those laid off were part of the event.

The venue was the National Press Club, Islamabad where many journalists had gathered to press for the reinstatement of those sacked in recent days and months.

Pervez Shaukat, the President of Pakistan Federal Union of Journalists (PFUJ) expressed regret that the very people who had been rendered jobless were not present today. "But we are still with them and will always support them," he said.

Waqar Satti, who heads the Rawalpindi-Islamabad Union of Journalists (RIUJ) announced that a protest camp would be set up in front of Geo TV offices in Islamabad on May 29.

Geo recently laid off several staff members, many of whom had served the organization for years. A number of other television channels and newspapers have also axed hundreds of employees.

The protesters Friday also called for the implementation of the 7th Wage Board Award and urged the employers to play fair and pay staff salaries and dues on time.

Similar protests were held in other cities on the directives of the PFUJ.